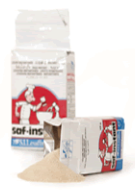 DEscription
The SAF Red premium dry yeast is available in vacuum packed sachets of 125gr. It is suitable for doughs with less than 5% of sugar level, such as sandwich bread, continental bread and flat bread. It is important to avoid direct contact with cold water, ice, or the walls of refrigerated mixers. It is recommended to dry mix the yeast into the flour, or add it onto the dough after the beginning of the mixing process
Main Features:
Vacuum packs for freshness
No need for refrigeration
Long shelf life
Fact Sheet
Item Code: LAS-YEA-125
Unit Size: 125g
Carton Size: 3 x 12 Units

Lesaffre set the global standard for yeast and other fermentation products. The company designs, manufactures and markets solutions that promote baking, nutrition, health and protection of living organisms. Family group based in northern France, Lesaffre has now become a multi-national and multicultural company that is committed to providing the best in each of its business areas: baking, nutrition and health, flavors and fermentation.