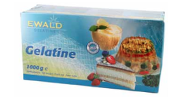 DEscription
Titanium strnghts for a better result.Product of Germany.
Fact Sheet
Item Code: HBC-GEL-1
Unit Size: 1 Kg
Carton Size: 1 Unit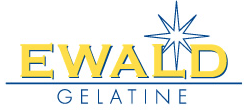 In 1886 Carl Ewald laid the foundation of the present company in Sobernheim / Nahe. Since then the company has been passed directly from father to son. Today EWALD-GELATINE is a highly modern and flexible company in the production of leaf gelatine, powder gelatine as well as hydrolysate.