Carnaroli Rice (superfino), Riseria Molinaro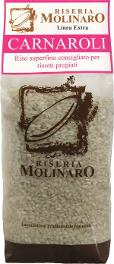 DEscription
Riseria Molinaro Carnaroli Rice is considered to be the best Italian rice, with good reason. It maintains its firmness after cooking and is ideal for excellent risottos and typical regional dishes. It combines with and enhances the widest range of flavours and foods.
Main Features:
Gluten Free
100% Product of Italy
Top Quality (less than 1% cracked grains)
Shining "Perlatura"
MAP packaging
Highly digestive due to high content of amylopectin in the starch.
Available in bigger bags upon request
Fact Sheet
Item Code: RM-CAR-1
Unit Size: 1 Kg
Carton Size: 12 Units

Riseria Molinaro is located in the NorthEast Piedmont (Italy) in the middle of "vercellese" in a land called "baraggia" . This is the area where the rice named denomination of protected origin of Baraggia Biellese and Vercellese is grown. From this area comes the best rice cultivated in Italy. All rices are selected carefully to make sure only the highest quality of the product is ensured. The "perlatura" which means "the pearl look" is the one of the important aspect that define the quality of the rice along with minimal creacked granis are distinctive of Riseria Molinaro rices.