CARCIOFI ALLA ROMANA (WITH STEM), GINOS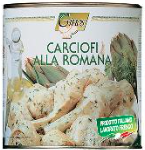 DEscription
ARTICHOKES ON STEM (Carciofi Alla Romana) - High quality selection – all in oil so they taste as close to fresh as possible with the convenience of being ready to serve! Great for finger food, antipasti platters and as high quality ingredients to make meals superb
Main Features:
100% Product of Italy
High quality standard
Best flavour profile
Fact Sheet
Item Code: GIN-ART-2.5
Unit Size: 2.5 Kg
Carton Size: 6 Units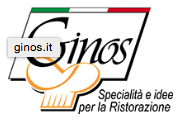 Love and care for good Italian cuisine, with its tastes and perfumes, are transmitted from generation to generation. This is the reason why a group of professionals was born around a strong culinary passion and decided to offer their 30-year experience to chefs, in order to always remember with joy the time spent around the table. Quality and service are the main objectives at Gino's: we pursue these goals through the careful research for suppliers of raw materials and finished products, the constant and methodic control of production chain by our quality control staff, the information given on every product label and finally the promotional activity of our professionals and consultants.